What is ChatGPT, and How does it work?
Blockchain technology has disrupted the way the traditional centralized finance system works. It has empowered users to control and manage their funds in a decentralized manner without any third party being involved, which is also the reason for its increased popularity. However, understanding the working and concept of crypto can be difficult for many. ChatGPT bot is one such tool that can simplify and help you out with these hurdles, assisting you in your crypto research.
ChatGPT is an artificial intelligence chatbot launched in November 2022 by Open AI, a team of entrepreneurs and researchers. It is a self-generative language model trained on large amounts of data to create and predict text, images, and much more. ChatGPT employs natural language processing (NLP) and other machine learning (ML) algorithms to identify patterns and learn structures of fed data sequences. The GPT-3.5 language model is a freely available version of ChatGPT suitable for light research purposes. On the other hand, ChatGPT Plus is a premium version based on the GPT-4 model that offers web access and extensive features and is highly beneficial for in-depth research.
Crypto Research with ChatGPT
Here are a few use cases of how ChatGPT can be helpful to you in crypto research:
Summarising Projects and Protocols:

ChatGPT can help you go through and analyze complex pieces of info from project whitepapers, documentation, articles, and other technical sources. It simplifies feed data and provides key points to help you have a clear understanding of the project.  

Market Analysis

: Another key feature of the ChatGPT bot is it can analyze historical market data to identify patterns and upcoming market trends to help you adjust your investments accordingly. Furthermore, with real-time data access, it can provide you with useful market insights and other prevailing market opportunities.

Evaluate Project Tokenomics

: For long-term investments, having knowledge of the project's token distribution, governance model, on-chain utility, inflation mechanism, etc., can help you make a better decision. ChatGPT can help you in evaluating Tokenomics and grasp other strengths and weaknesses of the project.

Trading Strategies

: ChatGPT can help you make a personalized trading strategy by analyzing real-time market conditions and upcoming opportunities based on your objective, risk appetite, crypto asset, etc. 

Updated Crypto News

: ChatGPT can keep you timely updated with the latest crypto news, developments, and regulatory changes by continuously analyzing news articles, social media, community forums, blog posts, etc.
Additional Read: Solana And ChatGPT Integration
How to use ChatGPT for Crypto Research
Since we have understood the features and benefits of using ChatGPT AI chatbot in crypto research. Here is a step-by-step walkthrough of crypto research on ChatGPT, so you can utilize it to achieve maximum output by asking specific questions.
Step 1: Getting Started with ChatGPT
Set up a context for ChatGPT by clearly defining its role and the information you seek. This is optional but can significantly improve response and align results with your specific query. Here's an example:

Step 2: Provide relevant Data and Resources
In the next step, feed ChatGPT with all the relevant links, resources, and information you have to conduct the crypto research. For instance, copy and paste the whitepaper if you want technical insights or understand the tokenomics of the project. Keep in mind the format of data should be according to ChatGPT; otherwise, you might not get accurate responses.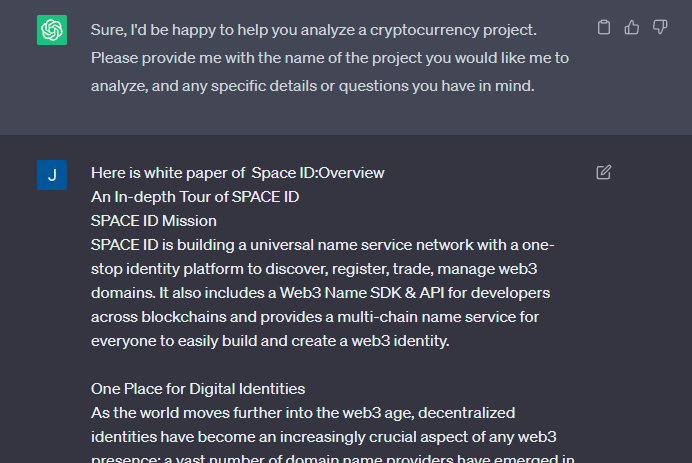 Step 3: Review Crypto Projects using ChatGPT
Utilise ChatGPT to grasp every detail of the project, from fundamentals to technicalities. Ask specific questions to understand the project's aim, its solution to current problems, underlying technologies, employed protocols, and other key details.
Step 4: Analysis of Project Tokenomics using ChatGPT
It's an essential aspect of crypto research to understand project tokenomics before investing. You can analyze the project's token use cases, utility within the ecosystem, distribution, and more through ChatGPT. 
Furthermore, if you need help understanding a concept or term during your crypto research. ChatGPT can also be used for educational purposes, with prompts like "What is the circulating supply of a token and its role in the project ecosystem?"
Step 5: Analysis of Project Governance Model and Development Activity with ChatGPT
Community participation and governance of a crypto project are essential for its long-term sustainability and promising future. ChatGPT can help you delve through the project's fundamentals, past performance in achieving goals, the role of DAO, and other community members.
Step 6: Project Valuation with ChatGPT
ChatGPT can iterate project financial metrics like its market cap, total value locked (TVL), market demand, and other aspects such as comparative analysis with similar projects, regulatory risks, etc. These value points can help you grasp the potential and weaknesses of the project. Here is a sample prompt:
Conclusion
ChatGPT can surely help bridge the gap between new users of blockchain and crypto markets. However, it's important to note that ChatGPT is an AI bot trained on data and information, so it might not always generate accurate, relevant outputs. It is advised to investors and traders to use this AI tool as assistance, not the actual source. Conduct your own research and validate findings with other sources to make the most out of ChatGPT.
Read More: Blockchain & AI in Crypto
Related posts
Mastering risk management is key to thriving in crypto trading.
---
Read more
27 Sep 2023
| 8 min read
Crypto transactions are getting explored more for the easy 6 steps!
---
Read more
27 Sep 2023
| 6 min read